4.5/5 Stars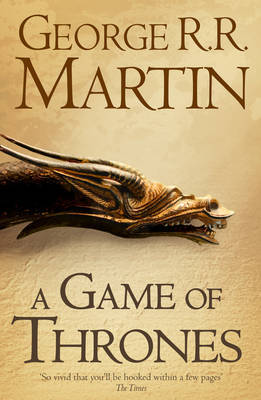 Edition:
Paperback
Pages:
801
Chapters:
72 (Plus a prologue and an appendix.)
Publisher:
HarperVoyager
Book Links:
Goodreads
Amazon
Author's Website
Review
Wow. I really don't know any other words that can fully encapsulate how goddamn good this book is. Wow seems kinda dull. I don't know how many times to use it before it gets repetitive, but the book deserves it all the same.
Wow, wow, wow, wow, wow, wow, wow, wow, etc. etc.
George R.R. Martin has created one of the most enthralling fantasy books of the century. What a journey you go on: A compelling plot filled with twists and turns, fantastic characters that you learn to love and hate, and writing that is so damned good you never wanna stop.
Make no mistake though, it is a journey. It's an investment that, if you're not wholeheartedly going to make, there's no point in starting this book until you are. The book is BIG. I feel like it took as long to read as the events took to unfold, but I wouldn't have it any other way because when a novel you love is so huge, you don't want to leave it.
There are only two things that bug me, and they aren't even huge, but I'll start with them and get rid of them.
1. The adjective use. Now, while I understand a book like this needs a whole world to be set and made clear, I feel the descriptions pass into the realm of paranoia. It has some majestic and brilliant descriptions, but EVERYTHING is described. I cherish it where it's welcome, but can't help but feel the immersion is affected when it goes into overdrive. No, I don't want to know what everyone in your army is wearing going through each and every man. No, I don't want the same locations repeatedly described to me in the same way as before.
2. The onslaught of unnecessary characters. This in no way pertains to any of the main characters, but the book is full of people being introduced, every chapter holds a new bunch of characters. The names begin to blur, and I found myself using the Appendix A LOT. I'm the type that needs to know who someone is and what they do, plus whose side they are on. Having to do that shunts the immersion of the novel and I was constantly on the internet looking things up.
That's another thing, you will need to have a sort of
Game of Thrones
encyclopedia next to you at all times, mainly for events that you haven't witnessed in the story's past.
Now on to the praise, YES!
The story to this book is magnificent, I haven't been so glued to a book for as long as I can remember, especially not a fantasy book. This is different, I am invested in the mysteries surrounding everything, I want to have all the details and all the secrets, and the book never leaves you bored. There's always something awaiting you around the next corner that wants to pound you on the head and leave more questions asked than answered.
And the characters. Whoa! All the main characters and mainly recurring ones are brilliantly written. The good characters you love, scream for, but you're also aware of their misgivings and biting your nails on whether they might forsake good for some bribe. The same goes for the bad guys (so to speak), you can see their monstrous sides, they flaunt them and you HATE them for it, but then again you're surprisingly aware of their redeeming qualities and you can't help but empathise with them.
Combine a magical plot with engaging characters, with writing that, for the most part, fully immerses you, and we have a winner. The author is fantastic at setting this world up, we even have a snazzy map to get our bearings. Everything is brought to life and blended so well you forget you're reading, you forget this world is in your head and you feel as if you're an all-seeing being in the series' world. What more can we ask for from a book?
One of my favourite lines from the novel:
"
When you play the game of thrones, you win, or you die.
"
Add me, follow me, let's get talking!
Don't forget, you can subscribe by email near the bottom of the blog (on desktop version) and have new posts delivered straight to you!
My Goodreads
My Twitter
Google+