5/5 Stars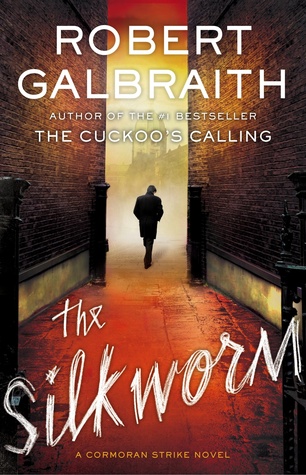 Edition:
Hardcover
Pages:
455
Chapters:
50
Publisher:
Sphere
Book Links:
Goodreads
Amazon
Author's Website
Review
What a ride this is! Upon finishing the new
Cormoran Strike
novel, I feel both invigorated and depressed. Invigorated, because the book is bloody awesome, and depressed, because it ended. I guess I'll take solace in the likely fact that there are more of these stories to come. So far I've never been disappointed by anything Ms Rowling writes. Although, and I find it frustratingly ludicrous that anyone even uttered it, some people hold Ms Rowling under close scrutiny because of
Harry Potter.
I've even spoken to someone like this, and I feel it's more over their resentment
Harry Potter
has ended, rather than anything being wrong with
The Silkworm
. For me, it's unfair, Ms Rowling is a storyteller, with no 'magical' oath to only write one thing. She is an exceptional author, and I hope she continues to traverse genres like the master she has proven to be. (Rant over, my apologies.)
Why does it have to be over!? Sadly, it is.
The Silkworm
proved to be a fantastic story, and resisting the urge to blurt out spoilers, I'm gonna do my best to review it.
Cormoran Strike is back, and joined by his plucky sidekick Robin, it's time for a brand new case. There's been an influx of work for Cormoran's detective agency since he solved the Lula Landry case, the story of the first book in the series,
The Cuckoo's Calling
, and when an old woman makes her way into his offices, it's not long until Strike is pulled into another investigation that absorbs his entire being. Owen Quine, a one-time famous author has went missing, and when his wife asks Strike to hunt him down, neither expect to find him dead and mutilated; and with the appearance of an unpublished manuscript that insults everyone in Quine's life, the list of suspects is massive. Can Strike solve the case, or was Lula Landry a fluke?
Ms Rowling pulls off a stunning feat with her writing powers. Even now being dubbed the master of the red herring, and it's true. Like many others, 3/4 of the way through I thought I'd cleverly deduced who the killer is, and feeling all chuffed with myself, continued to have my assumption further cemented in my mind. I was completely wrong. Thanks to the thrilling twist at the end, I'm not only proven wrong, but completely gobsmacked by the revelations.
The Silkworm
is an amazing mystery, one that you should definitely pick up.
Another plus is our dynamic duo: Hardened investigator Strike, and the smart, lovably warm Robin. These two drive the novel forward in a way other books' casts don't. They work off of one another, and it's a great pleasure to journey with them through such a fantastic story. Also, the perfectly written and diverse side characters add volumes to the novel. Especially the copious amount of suspects who, inadvertently, keep fingering one another.
One thing I will say though is, even though Ms Rowling's writing is impeccable, it can also suffer from overt descriptions. It's sometimes hard to stay fully immersed, and I sometimes felt I'd missed something important. Even now there are things I still don't really understand.
It's a novel that has captured my intrigue, and still has it even now that I'm done. It's also one of those books I just know I'll read again, because I know it has even more to offer.
Damn, I need number 3...
Previous Instalment: The Cuckoo's Calling
Add me, follow me, let's get talking!
Don't forget, you can subscribe by email near the bottom of the blog (on desktop version) and have new posts delivered straight to you!
My Goodreads
My Twitter
Google+