5/5 Stars
You either know one,
you have one,
or you are one...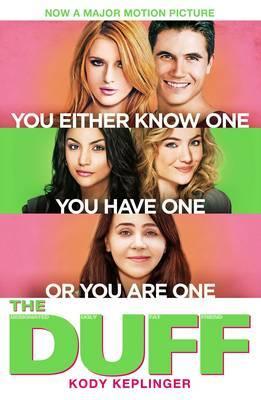 Edition: Paperback
Pages: 341
Chapters: 27
Publisher: Hodder
Review
I know, I know, most people hate the movie tie-in edition of a novel, especially considering the initial reaction from book fans of this film adaption.
But, if I hadn't seen the movie first (my review for which, you can find
here
), and spotted this cover in Tesco, I may never have got round to reading it.
And I'm so glad I did.
The DUFF is a great novel, with its perfect blend of light and dark; comedy and consequence. It's my first real foray into a purely contemporary high school romance, and I'm not disappointed. There's a definite ease with this book; it's quick to read, hard to put down and tackles heavy issues without affecting the weight of the experience.
Synopsis (Not a copy from the book, but I always keep my interpretations close.)
Bianca Piper is smart, quick-witted, cynical and often quite vocal.
When Wesley Rush, resident man-whore, deems her The DUFF (The Designated Ugly Fat Friend), she's initially angry, but quite sure of her invulnerability.
That is, until the word won't leave her brain.
Truth be told, Bianca's life is taking a turn for the worse.
She's being battered from all sides.
Battered, right into Wesley's arms...
Plot - 5/5 Stars
We're thrown in pretty quickly, the story wasting no time in getting in our faces. On the surface it's very much a teen romance, but the author dives into some serious issues: Divorce, self-esteem, the naive dangers of labelling people etc. and it's these issues and how they affect the plot and characters that prove to be the real hooker.
The complexities are fascinating, even though I don't have much genre experience. The clash of well-written personalities in a very realistic world offer endless opportunities for dissection. Truth be told, there are a lot of themes and messages; this might sound overwhelming, but they're really not that bad, and food for thought after you've finished.
My biggest enjoyment, is the main theme of the well-known saying: Never judge a book by its cover!
People are people, and I think sometimes we forget what that really means. We are not the sum of one thing, a rumour, or a label, or a mistake. We have multiple thoughts, multiple emotions, likes, dislikes, aspirations, fears. If you're ever going to judge someone, stop, think, and make sure you actually know that someone.
Everything's consistent, with very little fluff and a decent amount of substance.
Pace - 5/5 Stars
Overall, the pace is smooth. I was worried initially, what with my usual reads' quieter moments interspersed with action to break up the monotony, that The DUFF would be arduous. Thankfully, the novel doesn't do, or need, an action-like structure.
Bianca is a hooking lead, and her struggles, coupled with the struggles of those around her, are all we need. Add in the heated moments and everything nicely slots together.
Plus, there are decent surprises, too.
Characters - 5/5 Stars
The real meat of The DUFF, in my opinion.
Bianca instantly struck me as someone who'd divide opinion, and after perusing some reviews, she definitely has. Luckily, I love her. For me, her voice is just so easy to slip into. She's funny, opinionated, crass. She kicks ass. She's not fault free, of course. Her vulnerability, hypocrisy and nastiness can sometimes grate on the reader, but for a novel trying to pull of a very diverse character, well, it pulls of a very diverse character. The breakdown of her life is hard to read, but unputdownable.
I also identified with her 'caretaker' role when with friends. That was me, only with actual alcohol and more physical labour at the end of the night when I'd have to almost literally drag friends home...
Wesley isn't so easy to love, then again, that's exactly the point. As Bianca gets to know him, so do we. He's not just the 'man-whore' he's often described as, but a pretty complicated human being, whose situation is a scary parallel to our main POV. Wesley's running away from things, too. He's also intelligent, surprisingly kind and has the patience of a saint.
Then there's Casey and Jessica, Bianca's best friends and two friends I wish I had in my life. The former is a tough realist with an open heart. Casey's also massively intuitive, and can sense the slightest difference in anyone. Jessica is more ditsy in comparison to Bianca and Casey. But this isn't a bad thing. She's often the mediator and level-headed part of the group. Her unwavering positivity is a constant throughout the book.
There's a nice range of characters, with no real duds. So even if you don't initially fancy Bianca as your window into the world, wait, there's bound to be someone you adore.
Writing - 5/5 Stars
Like Bianca, the writing reflects its subject: It's welcoming, simple and conveys everything it intends to clearly and concisely.
Overall - 5/5 Stars
A welcome break from my usual genres, and a genre I'll definitely be wading more into.
And Ms. Keplinger is definitely an author I'll look out for in future.
Add me, follow me, let's get talking!
Don't forget, you can subscribe by email near the bottom of the blog (on desktop version) and have new posts delivered straight to you!
My Goodreads
My Twitter